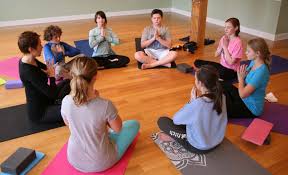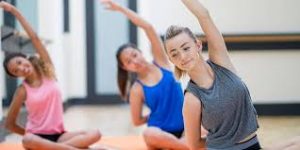 Mindful Movement and Meditation for Teens is a 10-week class held throughout the calendar year. This class is designed for teens, pre-teens and young adults who would like to deepen their mindfulness practice through weekly, guided meditation, mindful movement (yoga), and group discussion.
Teens participating in Meditation and Mindful Movement, each week,
will be involved in:
A guided meditation or mindfulness practice
30 minutes of mindful movement or yoga
A weekly mindfulness topic –discussion and group sharing
A weekly review of healthy living skills
 Mindfulness strengthens our ability to pay attention to the present moment; to notice our thoughts, feelings and physical sensations with curiosity and without judgment. When inspiring awareness through mindfulness – instead of reacting Mindlessly, we react Mindfully
Remember …  your teen's Quality of Life can significantly improve
Socially, Physically, Emotionally, Cognitively and Academically
 when they choose to lead a consistent, healthy lifestyle!
Fall Session currently in progress  – September 16th – November 11th                                                                 Winter Session to begin January 13th – March 2nd, 2020
About the Instructor:   Wendy Weckstein, P.T., M.Ed. is a Physical Therapist, Wellness Consultant, and a Mindfulness Based Stress Reduction Teacher for Adults through Brown University. She is also certified in Mindfulness Based Stress Reduction for Teens (MBSR-T). Wendy provides health and wellness evaluations, customized wellness programming and healthy living and mindfulness classes for pre-teens, teens and young adults.