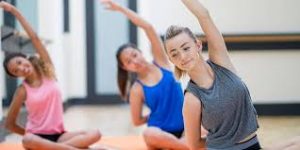 –  In-Person –
Yoga and Meditation for Teens
Mondays 4:00 pm – 5:00 pm   
January 24th 2022 – March 14th 2022 
$165/8-week class
                                                  Mindfulness Center of Northern Michigan, LLC                                                       934 S. Garfield Ave Traverse City
*Vaccinations are required to attend this class.
Please note that class size is limited and fills quickly!
This class is designed for teens and young adults who would like to learn more about, or deepen their mindfulness practice through weekly guided meditation and mindful movement or yoga. All movement and meditation practices are designed to meet the development needs and unique stressors of this age group. Teens participating in Mindful Movement/Yoga and Meditation, each week, will be involved in:
15 -20 minutes of guided meditation
40 minutes of mindful movement or yoga
Mindfulness strengthens our ability to pay attention to the present moment; to notice our thoughts, feelings and physical sensations with curiosity and without judgment. When inspiring awareness through mindfulness – instead of reacting Mindlessly, we respond Mindfully
Remember …  your teen's Quality of Life can significantly improve
Socially, Physically, Emotionally, Cognitively and Academically
 when they choose to lead a consistent, healthy lifestyle!
About the Instructor:   Wendy Weckstein, P.T., M.Ed. is the Director of Wellness at Northern Michigan Psychiatric Services, PC. She is a Physical Therapist, Wellness Consultant, and a Mindfulness Based Stress Reduction Teacher for Adults through Brown University. She is also certified in Mindfulness Based Stress Reduction for Teens (MBSR-T). Wendy provides health and wellness evaluations, customized wellness programming and healthy living and mindfulness classes for pre-teens, teens and young adults.