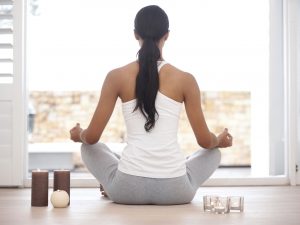 FREE  Weekly
Mindful Movement/Yoga and Meditation Class for ADULTS
   Ongoing Via Zoom
Mondays, 8:00 am – 9:00 am EST
This 60 minute virtual class incorporates 40 minutes of mindful movement/yoga followed by 20 minutes of sitting or lying down meditation, with the option to stay for an additional 15 minute silent meditation.
It is appropriate for adults who have either participated in an MBSR – Mindfulness Based Stress Reduction Class or have some prior experience with meditation and yoga.
Mindful movement is a type of slow yoga and is a form of meditation found in the MBSR curriculum. It is a body awareness practice that utilizes the sensations of the body (in movement as well as in stillness) as the object of awareness to help anchor oneself to the present moment.
This class will be offered using a Zoom online video classroom. In order to Register  for the class  please fill out the Online Registration Form  and include your name, birth-date, address and e-mail address. Once this is received you will receive an invitation via email to join the Zoom Classroom. There will be a simple link attached to your invitation email. Once you click on it, you will be directed to the virtual classroom.
Call 231-935-0355 for more information.
About the Instructor:   Wendy Weckstein, P.T., M.Ed. is the Director of Wellness at Northern Michigan Psychiatric Services, PC. She is a Physical Therapist, Wellness Consultant, and a Mindfulness Based Stress Reduction Teacher for Adults through Brown University. She is also certified in Mindfulness Based Stress Reduction for Teens (MBSR-T). Wendy provides health and wellness evaluations, customized wellness programming and healthy living and mindfulness classes for pre-teens, teens and young adults.