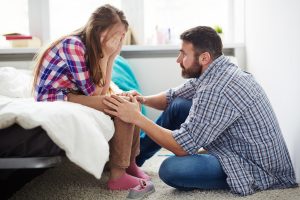 Parenting, although highly rewarding, can be stressful and at times overwhelming. In today's day and age, two income or single parent households is the norm, leaving parents exhausted and frazzled by the end of the day. On top of this parents are dealing with extraordinary challenges of contemporary society related to the abundance of technology, social media, the 24/7 onslaught of disturbing news, school shootings, access to elicit substances, vaping and cyber-bullying. We are actually seeing an increase in sedentary behavior, unhealthy eating, mood disorders and weight gain related to overuse of technology. In addition, there are the added pressures of schoolwork, extra curricular activities and sports. All of this causing our children to experience an increase in stress, anxiety, depression, harmful behaviors, eating disorders, reactivity and lack of emotional regulation.
Parenting is harder than ever! So how do we stay engaged and mindful as a parent, effectively guiding and shaping our children in todays fast paced and modern world? Mindful Parenting will offer practical tools to help you become less reactive and remain calm and centered so that you are better able to thoughtfully respond to challenging situations. This class will provide you with the tools you need to be able to mindfully listen and communicate with your child, maintaining present moment awareness of their needs.
About the Instructor:   Wendy Weckstein, P.T., M.Ed. is a Physical Therapist, Wellness Consultant, and a Mindfulness Based Stress Reduction Teacher for Adults through Brown University. She is also certified in Mindfulness Based Stress Reduction for Teens (MBSR-T). Wendy provides health and wellness evaluations, customized wellness programming and healthy living and mindfulness classes for pre-teens, teens and young adults.