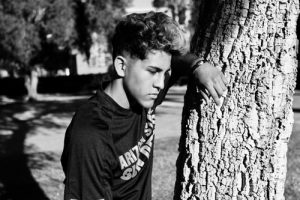 Stressed Teens Class
or
Mindfulness Based Stress Reduction for Teens
REGISTRATION

CLOSED
Fall 2023
In-Person Class
Wednesdays, 4-6 pm
September 27th – November 15th
934 S. Garfield Ave Traverse City
Cost:
$425 with Reduced Rate Options
and Financial Assistance Available
*No one is turned away due to financial constraints!
Stressed Teens is an 8-week, (MBSR-T) Mindfulness-Based Stress Reduction, class specifically designed for teens. This class is an evidenced-based, adapted version of the adult 8-week MBSR program founded by Jon Kabat-Zinn.
Gina Biegel, LMFT  created this adapted version of the 8-week MBSR program in 2004 in order for it to be more easily accessible and developmentally appropriate for the teen population. In this highly experiential and group-based class, teens will learn about the benefits of leading a healthy lifestyle, simple and effective mindfulness practices, and realistic ways to incorporate healthy habits into their daily routine.
Mindfulness strengthen our ability to pay attention to the present moment; to notice our thoughts, feelings and physical sensations – with curiosity and without judgment. When inspiring awareness through mindfulness – instead of reacting Mindlessly, we react Mindfully!
Teens participating in this class will learn about the body-mind connection and how leading a healthy lifestyle can positively impact their physical and emotional well-being. Using mindfulness practices, they will gain practical skills and learn the value of:
regular exercise
daily physical activity
healthy nutrition
proper sleep hygiene
thoughtful use of technology
self-gratitude – self-compassion
stress-management and healthy coping strategies
mindfulness practice
meditation
Your teen's Quality of Life can significantly improve Socially, Physically, Emotionally, Cognitively and Academically when they choose to lead a consistent, healthy lifestyle!
*Stressed Teens (MBSR-T) has been demonstrated through research to be an effective and evidence-based intervention to reduce adolescent stress and the physical and psychological problems that result.
*Full and Partial Financial Scholarships are Available!
About the Instructor:   Wendy Weckstein, P.T., M.Ed. is the Director of Wellness at Northern Michigan Psychiatric Services, PC. She is a Physical Therapist, Wellness Consultant, and a Certified Mindfulness Based Stress Reduction Teacher through Brown University. She is also certified in Mindfulness Based Stress Reduction for Teens (MBSR-T). Wendy provides health and wellness evaluations, customized wellness programming and healthy living and mindfulness classes for pre-teens, teens and young adults.